Back@Work
Tips for your returning back to work, with less stress;
Go to bed at respectable time the day before your return.
Get your clothes ready the day before.
Wear clothes you like first day back at work.
Tidy up your work-space first thing on your first day.
Undo your away messages on your voice mail and email.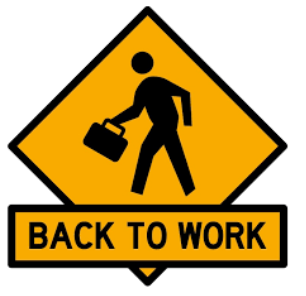 Briefly review your calendar.
Don't read your emails in chronological order.
Make a prioritized list of tasks.
Do one thing at a time.
Remove unnecessary distractions.
Listen to music.
Make plans to enjoy yourself the first week back.
Catch up with colleagues.
Set new goals.
Leave the office on time.
Cut yourself a break.
"Learn the value of hard work by working hard." Margaret Mead