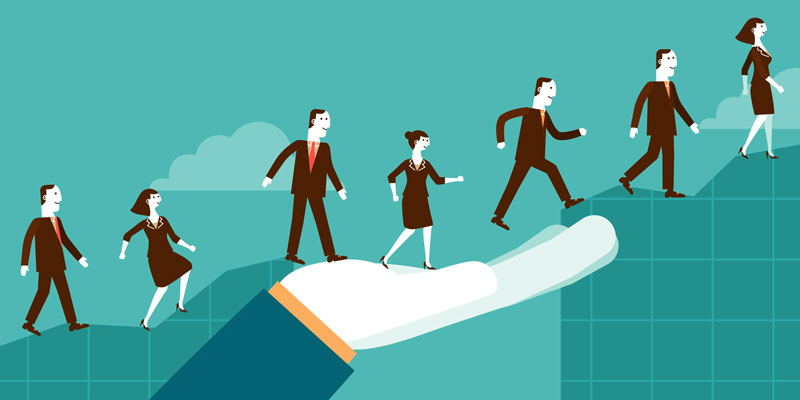 What is Human Resource Management?
The word human resource has a broad meaning to it, it's not just about hiring and firing as everyone would think. Before we go anywhere, lets first understand what Human Resource Management is.

DEFINITION:

Human Resource Management is the process of hiring and developing employees so that they become more valuable to the organization. It includes conducting job analyses, planning personnel needs, recruiting the right people for the job, orienting and training, managing wages and salaries, providing benefits and incentives, evaluating performance, resolving disputes, and communicating with all employees at all levels.
There are some core qualities of HR management which needs to be taken into consideration, here are a few examples of such qualities: extensive knowledge of the industry, leadership, and effective negotiation skills. Formerly called personnel management.
As a Human Resource Department, our duty is to ensure that all employees within the organisation are satisfied and to ensure that the policies and procedures of the organisation are properly followed and implemented and that all employees are developed.
2. What is LEADERSHIP DEVELOPMENT?
Leadership development focuses on the development of the leader, such as the personal attributes desired in a leader, desired ways of behaving, ways of thinking or feeling.
What does it mean for a company to develop leaders? As a company, we need to focus on 3 main areas, which are:
providing the opportunities for development,
stimulating the ability to develop (including motivation, skills and knowledge for change), and
providing a supportive context for change to occur.
Leadership development can build on the development of individuals (including followers) to become leaders. In addition, it also needs to focus on the interpersonal linkages between the individuals in the team. This means that a person's 'personality should be able fit within a team.
3. WHAT ARE YOU? ARE YOU A LEADER OR A FOLLOWER?
Being a follower does not necessary mean that you are not "strong enough" to become a leader. Followers can be developed to become leaders as well.
Leadership development within an organization focuses on developing employees who see themselves as leaders. In most instances you might find an individual who is most likely to be an introvert and would like the opportunity to become a leader and fears facing a crowd or standing in front of a group of people to address them. This type of function should come into place whereby an individual is developed and trained on how they should go about to overcome such barriers or obstacles.
As the HR Department, we need to ensure that all employees are developed and given the opportunity to become leaders. For that to be done, we need to ensure that the following processes are done:
3.1 Talent identification and management
This is all about how the company/organisation would spot, recruit, retain and develop talent.
3.2 Succession planning
In this process, we identify and prepare suitable employees through mentoring, training, and job rotation is the process of identifying and preparing suitable employees, through mentoring, training and job rotation.
3.3 360-degree feedback
This kind of approach is employee development feedback that comes from all around the employee. The feedback would come from subordinates and peers in the organizational hierarchy, as well as a self-assessment. The 360-degree feedback is one of the most important process because it gives us the idea as to what people think about you, how will they accept you when you become a leader and whether they are fond or pleased with the manner in which you conduct yourself in front of them.
3.4 Mentoring and Coaching
Before we can discuss this part, what is the difference between mentoring and coaching?
3.4.1 Mentoring
Mentoring is relationship oriented. It seeks to provide a safe environment where the mentee shares whatever issues affect his or her professional and personal success. Although specific learning goals or competencies may be used as a basis for creating the relationship, its focus goes beyond these areas to include things, such as work/life balance, self-confidence, self-perception, and how the personal influences the professional. Mentoring a person could also mean that you help that person grow, you motivate them to do well in everything that they do and always thrive to succeed.
3.4.2 Coaching
Coaching is task oriented. The focus is on concrete issues, such as managing more effectively, speaking more articulately, and learning how to think strategically. This requires a content expert (coach) who can teach the employee how to develop these skills.
An organization always needs to ensure that all employees are developed because it helps the organization to increase productivity and to retain employees. All the above-mentioned processes should be considered in all levels of the organization, more especially in the Human resource department seeing that that's the department that deals with employees all around the organization and will be able to see which employees need more development than others.