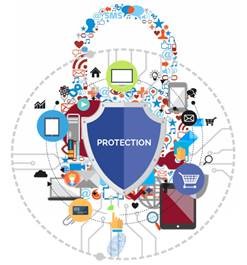 Most employees are somewhat aware of the value of information they have on them during normal day to day tasks and a fair amount of emphasis is placed on this by most organisations, yet not many employers out there make their employees aware of the dangers of a breach outside in their personal lives. In the highly competitive world we live in today we all carry sensitive company information with us.
Some of that data may be relevant and could cause irreversible damage for months after an employee has divulged it.
As an example, you are having a braai with friends over the weekend and you speak to a few friends about a project you are working on and the challenges you are struggling with, harmless right?
Well in most cases you are okay, after all you should trust your friends, right? But in fact, you have no way of knowing how far that information could potentially go. It may seem like a small insignificant detail, but remember that all information has a value to someone…
What about that last-minute email before you run out the office, how many times have you mistakenly sent an email to an unintended recipient who might have the same name of the actual intended recipient?
Likewise, many companies give out smartphones or an allowance for one which is full of sensitive company information on the device.
Most people don't like having complicated passwords, simply because it is convenient or embarrassing when they forget it and would need to request a password reset, but that password is invaluable to your employer when your device is stolen or worse, lost.
Trust me, the risk of having a simple password could have far worse consequences than having to ask for help from your helpful IT department.
Once we reach this point, many companies out there are not taking full advantage of the cloud services out there and prefer to stick with the "tried and tested" network technology of yesteryear. Let's face it, a backup flash disk or external HDD has no real security and is often treated as a trivial item that is left with your laptop in your vehicle in the evenings or when you stop for a quick drink at a bar or friend. Your backup means very little once your laptop bag is stolen.
The same goes for an untidy desk with valuable copies or print-outs of private information, or information that should be kept secure. All features that carry information such as plans, graphs, flashdisks, catalogues etc you do not want to be seen by others, should be cleared from your desk and locked up until in use.
The point of this long-winded rant is that you really should at some stage take cognisance that the information that you have with you at any given moment has value. Ultimately you are a wheel on a much larger machine that feeds you and your family, be vigilant with your company's information and do not be the cog that breaks this machine…