Vendor Managed Inventory Solution (VMI)
The Select PPE (Pty) Ltd issuing system manage and control the issuing of PPE to workers of various industries. This standalone PPE issuing system stores the client's issuing data in locally saved segregated SQL databases.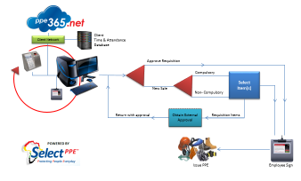 STATS System
As the leader in the field, and with the input of various clients, the system was developed and improved since the beginning of Select PPE in 1998. It started off with a manual paper card system which was soon followed with the first computerised system build as a Microsoft Access database application before it was eventually converted into a unique VB.net developed desktop application.
The needs and requirements of various clients were taken into consideration as the application was developed over the last few years. This system enables companies to comply with industry and regulatory requirements. Employers can use this system and configure a uniquely customised Issuing Protocol (IP) which stipulates the rules under which it will supply PPE to them.
This IP allows the customer to determine the specific PPE needs for each employee in line with their specific job requirements.
Issuing Protocol (IP)
The vital importance to keep up with technology and the continuous urge for more live information and integrated systems became more evident and Select PPE listened. A state of the art online PPE issuing application was developed which will lead Select PPE into the 21st century, making life easier and more save with the online and rebranded version of the STATS issuing system called ppe365.net
The system is available online and can be accessed from anywhere, so even if you have multiple sites in various locations, clients will now have a centralised view of all their PPE issued without the worry of abuse or that their workers do not comply to the required predefined PPE standards or IP.
The Online Application is hosted in a secure datacenter managed and continuously improved by the dedicated IT team of Select PPE (Pty) Ltd. All improvements are beneficial to all Select PPE clients who do not need to worry about server hardware or maintenance costs.
Benefits of the ppe365.net Application
Web based - Accessible from anywhere with an internet connection

Online issuing of products per employee

Issuing and tracking of specialised equipment

Issuing of items with authorisation when it falls outside the ambit of the Issuing Protocol

Customer control of specific purchases in bulk

Allow debit / credit card transactions for personal purchases

Cost-savings through controlled and monitored PPE usage

Easy accurate and live reporting on PPE drawn by employees

Live history between sites via centralised database

Inventory management with re-ordering suggestions to efficiently procure PPE

Measure the return of redundant PPE to dispose

Track pre-defined quality reasons of replacement items

Constant new system innovations in an agile environment

Various automated notifications and reports

No capital expenditure on Server infrastructure or maintenance related costs



Requirements
Dedicated Internet Connection (At least 2Mb) with ports opened to access Select PPE (Pty)Ltd.'s servers (List of ports available)

Computer with Internet Browser (Preferably Chrome or IE) which can also run a small local service app to manage peripherals (Signature Tablet and Slip Printer)

Client specified employee identification method, either being biometric or by means of employee clock-card reader with the relevant connectivity and possible integration requirements which will be assessed case by case

Live client employee file to be copied to Select PPE FTP site or e-mailed or integrated via service

Completed IP analysis based on client employee file data

Identified employee report requirements