Select PPE is a multi-brand distribution and service provider founded in 1998. Select PPE (Pty) Ltd provide customers with partnership-based management solutions, for the procurement and record keeping of Personal Protective Equipment ("PPE").
Our Company's primary activities are to source and distribute PPE to customers and their employees, monitoring the individual usage of PPE per employee based on specific job requirements, maintaining documented proof for legislative compliance, direct sales to cater for customers who do not have the capacity to host on-site stores, vending machine solution options to customers that require a less labour intensive supply of PPE to their employees or consignment store stock which is legally owned by Select PPE (Pty) Ltd, but held by the customer at their location. Customer has access to the goods in the warehouse at any time. Our key strength and competitive advantage is supply of a complete onsite store solution. This entails the supply and delivery of personal protective equipment, including issuing of PPE, recording keeping, big spenders per individual, highest value items and monthly management report discussion with cost saving initiatives.
How does this all work?
The requirement in terms of Personal Protective Equipment is a responsive, flexible, problem free, cost effective outsourced PPE Management Solution. The PPE Management Solution should leverage application specific expertise to procure, disburse, control and track on-site usage of customer specified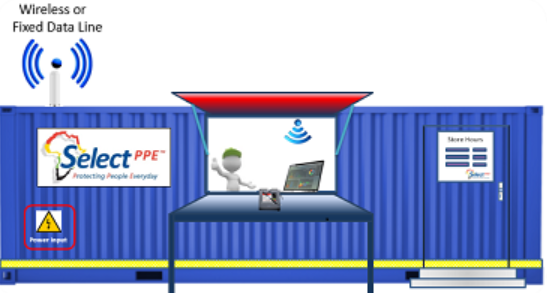 personal safety products that protect workers by ensuring product compliance with regulations and supporting issuing protocol documentation by individual user, thereby reducing claims.
The issuing of personal protective equipment will be issued and monitored according to the customers Issuing Protocol (IP). All PPE will be issued per person and through the correct onsite store. It is important to keep record of usage per employee as well as per approver (when approved outside of the IP). Where PPE is requested outside of the boundaries of this Issue Matrix / IP, it may only be processed if the requisition listing previous issue of similar items is countersigned by the Head of Department (HOD). No PPE will be given to employees unless approved by the HOD.
Our stock in our PPE Stores are replenishment on a continuous basis from a local Distribution Centre (DC). All stores should keep stock for 3 weeks, whereas the DC should keep stock for 6 weeks.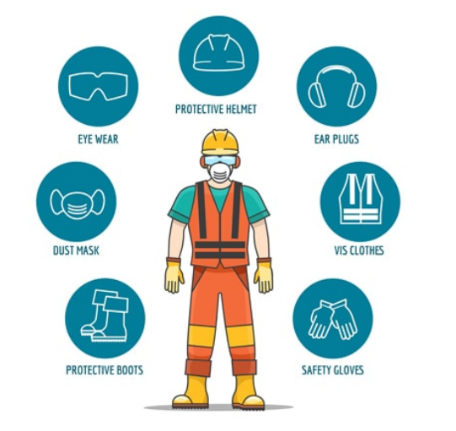 To ensure we keep up our good image a weekly store audit is conducted, and we will also perform a monthly stocktake to ensure the correct and efficient running of the stores. We can at any time supply the client with a complete issue history at shaft level which is available immediately, down to per employee level / approver level and cost centre. Our Select PPE Area Managers liaise with all relevant Mine Management at shaft level, on a regular basis. Our admin staff can issue invoicing monthly per section / cost centre / shaft / item. Area Managers submit monthly management report to all relevant Mine Managers, indicating any abnormal usage/spend and reasons for it.
Select PPE's Competitive advantage in the market includes the following:
The leader in the distribution and management of PPE within South Africa
Long standing relationships with large blue-chip clients
Strong brand name in the market
Extensive physical infrastructure at client sites
In-house developed PPE monitoring IT system ppe365.net
Experienced management team
Pioneer in Women's clothing
Leader in the procurements, distribution and management of quality and application specific products
Customers include various large companies within the global OGP, Manufacturing and Mining sector
We maintain a strong relationship with our customers as the majority of our business is contract based
We are not merely a distribution company – but a complete solution offering
The ppe365.net system implemented has historical information that tracks a customer's employees individually and reflects the usage information about each item of PPE
Let Select PPE help you to simplify and ease your PPE Management. We are virtuous in what we do!